Description
We have made it easy for companies to have a fully integrated website that works on mobile devices as well as desktops. This product is well suited to companies that have a steady stream of traffic and require a robust website to increase their online potential. Customers spend an average of 3 minutes on websites, so you need to get their attention.
Many businesses like yours who don't have the time or resources to monitor, update and manage a websites technical side of things. That is where Mint Graphics is able to help.
You pay a monthly fee and we will create a professional website. We take care of the updates and maintenance, plus any questions you might have. You can pay up front for the year if you wish too.
We take care of the maintenance
---
We will take care of ensuring your website is up-to-date. You won't need to pay for additional hosting costs. If you want to upgrade features, there is just a one-off cost, no additions to you monthly fee. For example we charge £30 for extra pages and if you want premium plugins then we try to keep the costs as low as possible.
Professional design
---
Your website will be designed by a professional web designer with years of experience. We won't use any off-the-shelf templates, everything we design will be bespoke to your requirements. We will help design your logo and branding so that it will look professional.
Google friendly
---
Each website is designed and built in a way to ensure that you are visible to search engines. Care is taken to ensure that your content has enough keywords and structured in a way that enable customer sto read it easily. We will give pointers and advice on how to maximise the potential for your website. Paying monthly means that you can always have an up-to-date website.
---
Looking for another type? Try the Lite edition
To learn more about our pay monthly websites, we have a list of FAQs here.
What is included?
Free Domain Name
We will help you find your perfect domain name at no extra cost. If you already have one we can point it to our hosting.
---
Umlimited
You can create as many pages as you like, our designers will set up 5 pages initially.
---
Up to 10 Email Addresses
Create up to three email addresses. Link them from your phone and desktop computer so you never miss an email. I f you already have an email, no problem.
---
Responsive for mobiles and tablets
All our websites are responsive to mobiles and tablets. This is a standard feature that any web designer should make available.
---
Web design included
Once we get your content and ideas on what you want it to look like, our designers will work right away and make a unique website design. We incorporate your ideas, designs and branding concepts to make a bespoke website. We can use a range of plugins such as calendars, event booking, contact forms and newsletter subscription forms.
---
Content Management System (WordPress) Hosting Included
WordPress is one of the biggest website platforms in the world. Nearly 30% of the world's websites use WordPress. We will help train you on how to use this easy platform, from changing text, to checking web stats.
---
Free Updates
We take care of the updates, management and maintenance of your site.
---
SEO Friendly
You might have heard this, we will ensure that all your pages are SEO friendly so that search engines can find the site easily.
---
Blog & Contact Forms
Contact forms and blogs are an important part of owning a website. If you want just a contact form, we have this as part of the design.
---
Social Media Integration
Social media is more and more important these days and we can insert twitter feeds and instagram feeds on your site as part of the design.
---
Set up Google My Business
This is particularly helpful if you want to show on local searches. We will show you how to do it and help set it up.
Choose the plan for you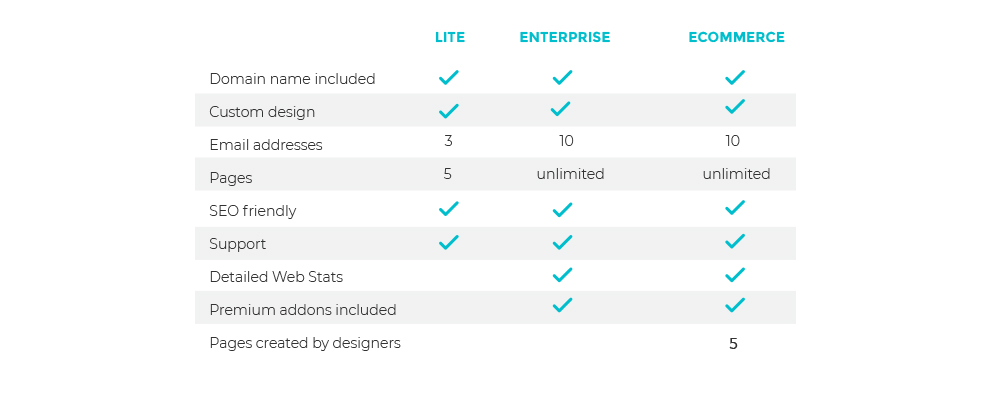 Need help deciding?
Contact us to find out more